I am tired, very tired. lublub's fault but i'm happy (:
Today, I MEET MY BELOVED JADEY.
It was just this gush of happiness when she screamed " auuuuudreeeeeeyyy!!! "
And there we stood, babbling on and on outside levi's.
Squealing, giggling, laughing, talking..
4 months.
4 months without seeing this girl, close to a year since i've really been able to talk to her...
Yet today, after this long long communication hiatus...nothing's changed (:
And that very fact just warms my heart.
No awkward silence, no wrecking my brains to think of what to say, what not to say, how to act, how not to act...
It was just me, that same audrey talking to that same jadey as if we were on that mrt platform going home together every day in upper sec- talking and talking non stop about everything under the sun.
We caught up but that 1 hour session was definitely not enough, out future trips our shopping sprees, the heart to heart talks to come. I'm looking forward to all those. But we covered quite a bit of ground in that short time (: a lot of zambut ( instead it's " zambooot" ), love, friends, family, studies, future, happiness...
and we "camwhored".
we TRIED.
we SUCK AT IT.
HAHA. i swear, we were both so awkward. Like a mix between nervous laughter and full outburst of guffaws, and laughing at our selves.
meet jade, my 20 cm taller bestie :D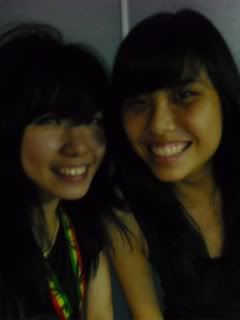 and....
WITH FLASH.
IN.THE.BUS.
WITH FLASH IN THE BUS.
cheebong, super embarrassing -the moment the flash went off it was like a tsunami. instantly everyone infront turned behind to start.
And that was the end of our camwhore.
ha.ha. failure much?
still, i love you jadey!
cant wait till i next see you :3