It's been a long time since i last posted a video of me dancing, hmmm i think since i stopped going for reggae open? Soooooo... here is one!
Our performance at FB
(:
Haha. Please ignore kevin's voice.
Seeing myself do LA is kinda
cringe-worthy
, lucky i pulled out of the last item considering i only had one day to learn the choreo and perfect it
*phew*.
Sorry nana
, for all the mistakes in Twinkle! Kinda spoilt the whole thing ):
I'll train hard (: and hopefully one day i can finally do an LA item without all the incessant worrying of accents and sharpness.
Still, my love stays with bounce :D
Hope this doesnt sound egoistic but i'm actually really happy to see my 2 bounce choreo.
Not that it's good, Just that it's just the sense of achievement, like, i finally choreographed something! *beams*
The performance that night was the best we had so far, kinda adrenaline pumping i'd say.
it was only 4 short days of prep, but i'll miss the whole experience with the 4 of them.
Ironically even though the bounce items were my choreos, i was still super anxious about it. Somehow , i'd always mess up the start of the second choreo, and since i'm infront,
if i screw up, i'm screwed.
And there's also that extra expectation from myself to nail it, not my best, i think it's the nerves.
Strive harder! :D
Pictures from agm! :D
trust me to look like an idiot in photos...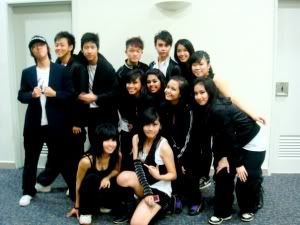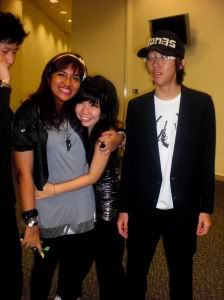 Love hugging nicole (:
Aty looking smoking hot with me looking like a spazball.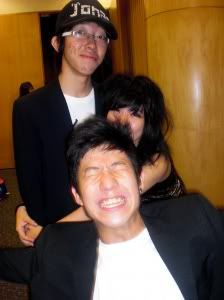 HAHHAA. briyanni and nana (:
thanks for always being there you too!
and zambut, don be jealous that i hugged your husband.
Talked during Suntec training yesterday and i just feel so reved up! Slowly but steadily, the pieces are all forming. Of how we'll slowly make our way to the start, be raring to go, doing things we've never done, and getting reaching our goal (:
Visualisation is such a strong factor.
It makes me want it more and more and every training i feel my body getting a lil different.
And this, i like.
Very much.
Modern exams coming ): i am worried as hell.
Been so focused on hiphop that my modern's out of sync. Like really, I cant do a proper pirouette now when just 2 weeks ago i could ( on very lucky occasions) nail my doubles.
So rusty, everything's so rusty now.
9.30am now (:
Had a nice long early rest till 6 this morning.
Was half falling asleep while talking to zambut. Couldn hear his voice at certain times then it was..
.zzzzzzzzzzzzz
and i start to dream...
then his
" baby, are you there?! have you fallen asleep?
" will punctuate my drifting moments
and i was all
" mmmm? nope not sleeping... hurhur.. zzzzzzzzz "
dance in an hour's time!
then it's me off to zambut land hahahaha.
Now it's just dance, studies and money that's filling my head.
i need more time on my side.