i know both of us look really ugly, but ...
it's that weird, dorky funny couple look (: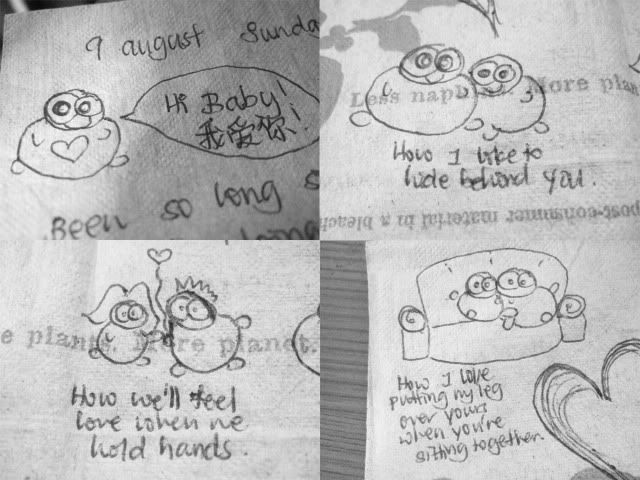 Dug out some pictures of Baby and i. In real life and in cartoonistic figures.
Actual being the night before my 18 when he came down to the foot of my block with the hand-drawn card and red bag. When my birthday cake was the best of all chocolate cakes- Yamazaki chocolate fudge. And a sign of acceptance :D :D :D
Those in my signature bulbous eyes and rounto body, were drawn after a crying session at starbucks over the phone from being maligned and needing comforting from the bf, wishing for his physical presence whilst studying hence explaining the drawings. Very apt expressions of what we're really like.
Starbuck napkins are awesome to draw on. It just feels nicer than drawing on paper, i don't mean feel in the literal form but more of the from-the-heart kind of feeling. It's just something about that gush of feelings at that one point of time that just eggs you on to draw, scribble, doodle on somewhere, however weird it may be. Grabbing at what you can find just so you could relieve yourself of the build up of thoughts and emotions, and penning them somewhere more tangible than your mind yet more transient than in black and white on paper. The thought of how napkins are your usual use and throw everyday items that end up in the bin so very often, and how they don't belong in files (nicely kept and arrranged, like paper ), yet because of your little explosion of feelings and actions, there's someone out there who's going keep in safe and sound. Away from the bin, nicely kept and treasured.
It's not everyday you treasure napkins around you (:
Today, i am extraordinarily happy.
Yes it's about the shop and no, not quite so much about money ):
but because... I AM TAKING THE RACK ABOVE MY RACK AS WELL.
the rack that i thought was supposed to be mine in the first place!!! AHHHHHH.
AHHHHHHHhhhhHhhHHHH.
Sorry, even though it happened in the afternoon i am still excited.
it's from the awesome possum mumsy :D :D :D!!!
The thing is, my sales is probably the WORST in the entire shop for the short little period in the month of august.Like seriously.
And all because my stupid small rack had too many things and people dint want to flip through even though they were interested, and it sucks hearing that sooo many times ):
Now all my happy lovely black and white pieces are on the top rack and my coloured pieces below.
PLEASE LET BUSINESS PROSPER!!!!!!
now i need to fret over the online side . gah. gah. gah.