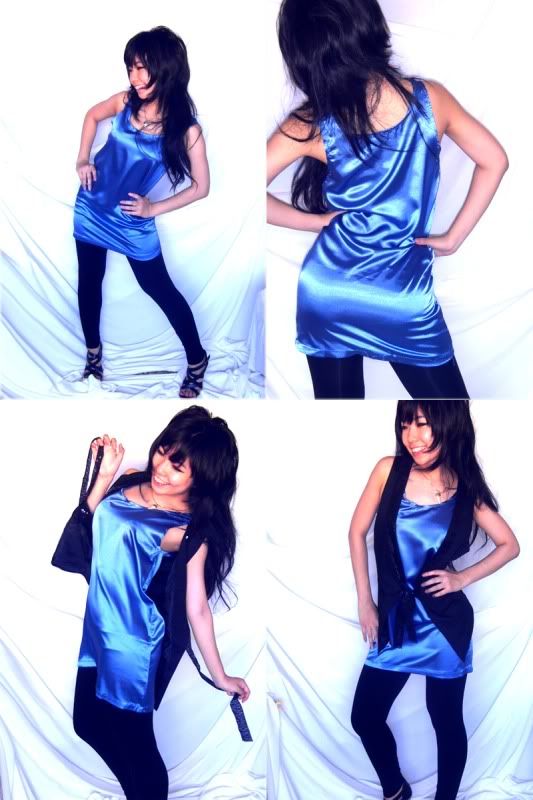 Updated at Kadanata and now i'm tired as hell ): Still juggling, still struggling * puffs out air of exasperation* . Saw the leather jacket on Kadanata, selling at Dopestreet for 10 bucks more. Sigh, but they can afford to do so, like being a much more well known site. Wish i could make it big, that's like every online shop owner's dream i guess...? Launching every collection and having it gone the moment everything's up... Have been such a mediocre person ever since i stepped into poly, it's like i lost whatever spark i ever had back then. How do i get it back?
Wish i could live in heels, swear they act as an illusion to make my fat legs less fat. I know my legs look alot slimmer in some photos, like a hell lot. But no no no, i din photoshop them. A pair of heels and tyco camera angles were what probably worked :D And this collection was another self-taken one. I think the photos are ugly, they never ever do the clothes any justice ): ): ): makes me sad. I like going over to HappyBurgers :D i think Chong and Lorencia have really really awesome photos!
Mel's been taking the modern class for the past 2 weeks, i like her teaching (: And modern exam next week, i am dead dead dead so dead. Anything that has to do with going/turning/jumping to the left... i can't do properly. After all the turning today, i felt pretty concussed. Was lying on the studio floor for quite a looong time, an hour after class ended and i was still feeling giddy and took more than twice the time i usually took to get home. baaaaaaah.
AND I'M MEETING JADEY THIS TUESDAY! *squeals in excitement* swear it warrants me to feel exceptionally happy. I miss her as much as a kid loves candy. So many things to update her about, and now when i think of her, i think of our online discussion about a bangkok shopping trip and my hype mode just r.i.s.e.s. i miss ah mu too, it's been so damn long.
mediocre. Must stop being mediocre.