" what day is it?! oh my god do we have exam!!! "
haha that's the first thing i said to cummy after waking up from my 7 hour nap. 1 hour of sleep, info overload and 2 cans of red bulls does this to you. i was seriously panicking for that moment, haha so loser.
so yea, 1 hour of sleep crammin in bmic, then 2 cans of red bull. have never done the red bull as fuel thing before, IT SUCKS PLEASE DON TRY. i will literally bobbing about in my seat during the exam, and my hands were SHAKING. DAVIN IF YOU ACTUALLY READ THIS, I DUNNO HOW YOU SURVIVED O'S ON RED BULL OVERDRIVE.
" YOU WILL BE DAMN HONG GAN AT FIRST THEN AFTER THE EFFECT WEAR OFF YOU GG. "
the hong gan part is damn true. the moment i took my paper i was chionging and writing at this crazy pace, reached section C within 15 min. it's nuts, really. din have to worry about the effect wearing off cos i filled my bottle up just for good measure.
1 DOWN 3 MORE TO GO. and the first thing i'm looking forward to is ELEVATORRRRRRRRRRRRRRRRR. ELEVATOR ELEVATOR ELEVATOR.
and yesterday while memorising the ideal traits for chemical agents we came up with this erm synonym(?) i cant rmb what it's called. like you rmb the colours of the rainbow, and you come up with some weird sentence using the initials. erm ya.
there were TWELVE. insane.
...............................
MY NEH NEH CAN DROWN ANTS!
BAHAHHAHAHAHAHAHAHAHAHHAHAHAHA.
okay no dirty thoughts.
i was all hyper studying we were both going ' eh you think my neh neh can drown ants or not ah?' HAHHAHAHA
okay ya, please no dirty thoughts.
welcome to the lives of chao muggers who feed on nonsensical pleasure.
and cummy was like " eh tmr i try on zsa lah, i'd go ' eh your neh neh can drown ants or not ah ? ' " BUT HE DIN HAHAHA. ZSA PLEASE DON KILL, WE LOVE YOU SOOOOOOOOOOOOO MUCH :3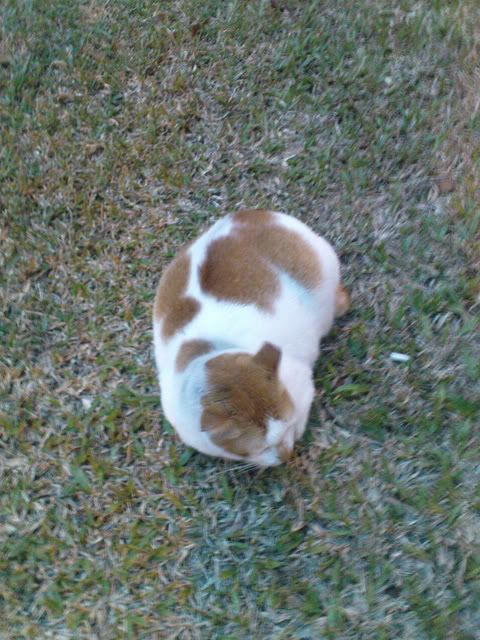 and this is the extremely fat cat that stays at my block. erm erm she's called cutie.
AND IS DAMN BLOODY HEAVY, carrying her feels like carrying a sack of rice.
and i din edit the photo to make her huge.
but she's got the sweetest temper and the most endearing stoic expression you can ever find.
and i could just feel that competitive streak coming from over there. well, i hate it.
it makes me view things in a different light, don sugar coat it cos it's literally seeping through all that masquarade of sweetness. it is. for shit effort and for real effort, the results are the same. sometimes i wonder for what freaking fly......... yep.