T
H
I
S I
S
K
U
P
O.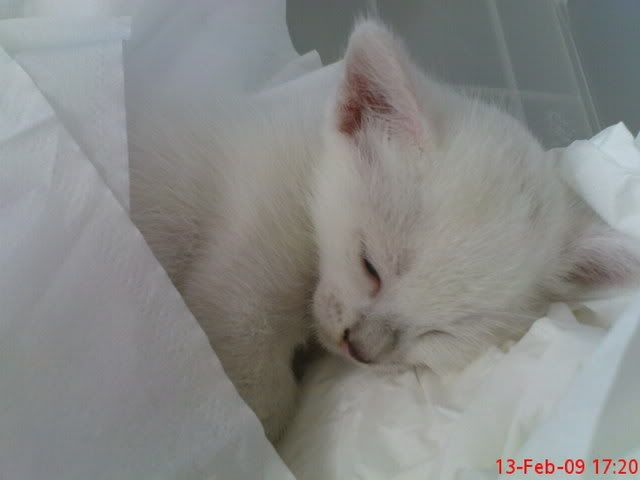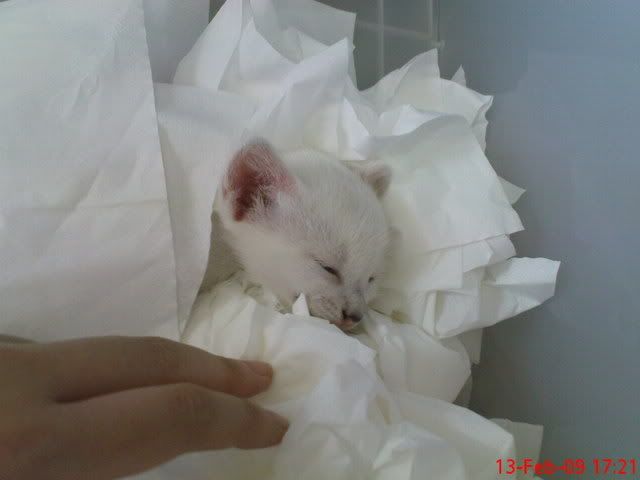 haha okay i know, what a

weirdass name

, he actually came from FF9? the name i mean. Loco came from locoroco, we have creative issues. so anyway, i wouldn exactly say we saved him, cos we din like pull him out from under a drain cover on a rainy day like we did for

loco

.But then agin, he was just lying one step above the foot of the stairs and that is such a vulnerable spot.





and anyway,

S

O

M

E

R

E

A

L

L

Y

S

T

U

P

I

D

/

C

R

U

E

L

person

C

U

T

O

FF

H

I

S

WHISKERS

.
and like cats cant do without their whiskers cos they
cant balance
and they
might get stuck in holes.
REALLLLLYY! like the length of the whiskers is actually the width of their bodies. SO, A FAT CAT HAS LONger whiskers :3 (i think )
so yep i carried him up and sat outside the house cos mumsy was like "CANNOT BRING ANYMORE KITTENS HOME AH". and he was this

sweetest lil creature ever,

so quiet so obedient. so poor thing!anyway she still relented and now she's his greatest fan, i love how much of a softie my mum is towards animals, it's so

awwwwwwwwwwww

.
initially he was

walking like a dragon.

NO KIDDING. you know like how when you play monster hunter and the dragons are

crouched really really low and walking on all 4's?

except he was waaaaaaaaaaay slower. and after walking a while , he'll find a corner, snug against it and fall asleep.
so yep, he was an absolute angel initially. like one of those babies you wished you had cos they were so cute sleeping, and when they wake up they just look at you with puppy eyes. HAHA he was like that lah. now,he still sleeps alot, BUT IS A WHOLE LOT MORE PLAYFUL and doesn look so much like a dragon when he walks. but still the

ultimate cuteass

. and for such a young kitty,

he already knows how to smother up to you/be manja.
he's all white sans the long tail that's like striped and he has the most gorgeous blue eyes. and he meows even louder than my FULL GROWN CATS
cats when he's hungry. plus he like's corners, getting his tummy tickled, getting carried/eating/sleeping/being curious. le cute, no?

SO ANYWAY IF ANY OF YOU WANT HIM PLEASE DO LET ME KNOW OKAY (:I WONT BE ABLE TO KEEP HIM ONCE HE GOES BIGGER, AND I HAVE 2 CLOSETLY JEALOUS CATS.
PLEASE DO

NOT

TAKE HIM IF YOU

: INTEND TO PLAY WITH HIM FOR 2 DAYS AND CHUCK HIM ASIDE COS THE NOVELTY'S GONE/PLAN TO GIVE IT TO THE GIRL YOU'RE JIOING SO SHE'LL LOVE YOU FOR GIVING HER SUCH A CUTE FURBALL,THEREAFTER THROWING HIM ASIDE/ WANT TO GET HIM TO SCARE YOUR FRIENDS WHO ARE AFRAID OF CATS/ ARE THIS MANIAC WHO INTENDS TO TORTURE HIM.
*i actually wanted to send you his pics MOGO! but vin's phone just wouldn get through to you! here's he pics anyway, he looks kinda like Loco to be honest. esp the ears, they are like freaking satellites! *
on a highly irrelevant note.
please
d
o not
buy acer laptops. esp those coming to temasek poly and they have the it roadshow.
do not be fooled by the
awesome cannot be missed deals
.
you will regret it.
acer plus windows vista is the worst combi ever.