HAPPY CHINESE NEW YEAR EVERYBODY!
oh wells, its already the last day of the cny hols which is so saddening. this year's atmosphere was played down by alot, quite a few relatives going overseas and some not being able to celebrate due to passing on of loved ones. last year's was more uplifting,
maybe everyone's getting tired of cny
. if thats the case,
its doubly saddening
.
second day was a mad rush of destinations and the second place we went to was to
jalan redop
. ulu place at upperseletar where all the $$$ppl stay at.
thats my hot mama with my 100yrold godgrandma.
while we were there, i saw the most unique newyear tray ever
from that green thingy going clockwise:
the green thingys some packet of dried hawthorn fruit.
then there are fried broad beans.
next,a mixture of beans which is really really nice because its kinda sweet and i was crazy over the red beans.
followed by bak kwa. which i've never been crazy of cos i'm too lazy to chew so much.
and MACADAMIA NUTS. WAHWAHWAH.
hurhuhr, but the ultimate one is the centre snack.
BLACK PEPPER BEEF JERKY
. DOUBLE WAHWAHWAAAAAAAAAAh.
after that we went on to my grandma's house in pasir ris since my grandpa's back from the nursing home. was outside the mama shop after buying newspaper and my bro took this and started laughing at my tanlines ._.
hurhur, used the eye pencil VEE gave me yesterday after leaving when all the relatives started pouring in. online business for her soon so i'm a product tester! and i say, two thumbs up!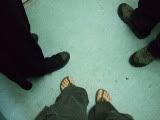 FEET!how very rare for the 3 of us to be standing together in that lift. i like this pic;my mum's the one on the left, she's got on some really high cut velcro-strap boots.then there's me with my
haivanas
that i treat like treasure and my bro's dunno-from-what-brand-bata-imported shoes.
my aunt's house is every snacker's haven because,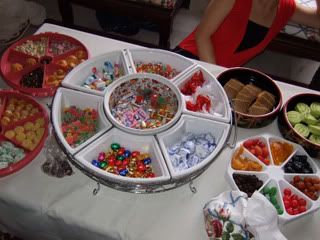 she has the most elaborate and variety filled snack tray
ever
.
more like snack table actually.
lo and behold :D my mummy's creations, every single one of them. her pineapple tarts are hot property.
too bad though
, i'm
anti
pineapple tarts.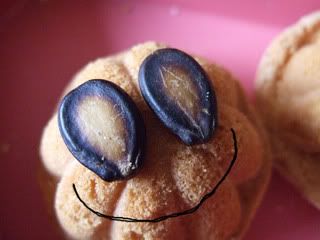 HAHAHAHA. i LOVE KUEH BOLUH
.
this one looks in shock.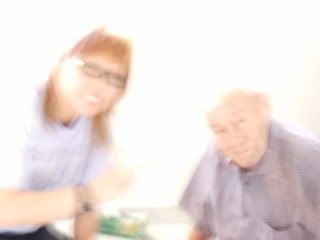 VEE! with my super cute ahkong on the first day of visiting.
my very pretty aunt with my ahkong yesterday.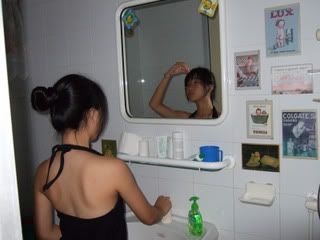 MUAHAHAH. pretty ghostly huh :DDDDDD
i had a deluge of photos but the resizing and uploading was getting on my nerves so i hopped alot of photos. to sum it all up,